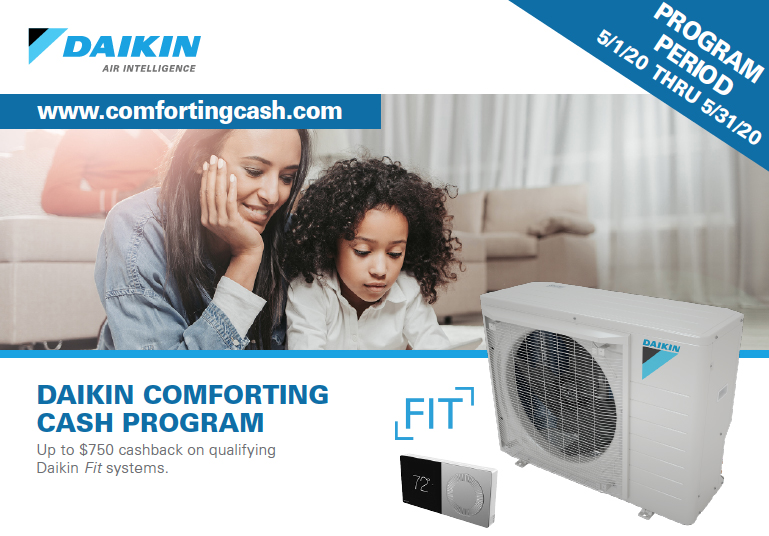 Daikin Comforting Cash rebate check will be issued within two weeks and can be used toward monthly loan payments on purchased equipment or as-needed, it's completely up to you!
» Qualifying Fit systems:
– Daikin Fit Outdoor Units (AC & HP): DX17VSS, DZ17VSA
» Qualifying Indoor Units:
– DM97MC, DC97MC, DM96VC, DC96VC, DM80VC, DD80VC, DC80VC, MBVC, DV-FEC, DV-PEC.
*PROGRAM TERMS & REQUIREMENTS:
Please contact your Daikin dealer/contractor for program terms and conditions that may apply. To claim your rebate you must submit a claim at www.comfortingcash.com and upload a copy of the completed form on the back. The deadline to install systems is May 31, 2020 and all claims must be submitted at www.comfortingcash.com by June 15, 2020. Please allow up to 45 days for rebate payment delivery.
1 Savings based on comparison of non-inverter systems to Daikin Inverter based systems. Actual results may vary. Many other variables affect energy usage, so these figures are estimates only and your savings may be different.
NO INTEREST IF PAID IN FULL WITHIN 15 MONTHS
INTEREST WILL BE CHARGED TO YOUR ACCOUNT FROM THE PURCHASE DATE IF THE PURCHASE BALANCE IS NOT PAID IN FULL WITHIN THE PROMOTIONAL PERIOD*.


See your independent Trane Dealer, Lilly Enterprises, LLC, for complete program eligibility, dates, details and restrictions. 
*The Wells Fargo Home Projects® credit card is issued by Wells Fargo Bank, N.A., an Equal Housing Lender. Special terms apply to qualifying purchases charged with approved credit. Minimum monthly payments are required during the promotional (special terms) period. Interest will be charged to your account from the purchase date at the APR for Purchases if the purchase balance is not paid in full within the promotional (special terms) period. Paying only the minimum monthly payment will not pay off the purchase balance before the end of the promotional period. For new accounts, the APR for Purchases is 28.99%. If you are charged interest in any billing cycle, the minimum interest charge will be $1.00. This information is accurate as of 05/02/2020 and is subject to change. For current information, call us at 1-800-431-5921. Offer expires 12/31/2020.
Lilly Enterprises can provide you with a great financing offer for a new Trane system. Call 252-244-0038 Lilly Enterprises LLC, your independent Trane Dealer. Click here for financing more information.